12 January 2009 01:34
We have recently redesigned the home page of our web with some photo galleries and quick links to our projects. We have also introduced an index – a useful tool to navigate our current, previous and future projects through an ongoing list of collaborators (
artists,
curators, institutions, writers, etc).

News and updates on www.lttds.org/blog
| 2009, latitudes, website
29 December 2008 07:57
Looking back at the past year is a infectious exercise at this point in the calendar. We would like to thank everyone that has visited or taken part in our projects, from the small ones to the 3 year-long collaborations, whether from nearby or far away.
Our 2008 began as intense preparations were well underway for the group exhibition 'Greenwashing. Environment: Perils, Promises and Perplexities' at Fondazione Sandretto Re Rebaudengo, Turin (29.02 –18.05.2008) co-curated with Ilaria Bonacossa. 'Greenwashing...' presented the work of

25 artists

and artists groups (11 of those produced new work). A 192 page catalogue was published by The Bookmakers Ed., Turin – you can buy a copy here (English/Italian editions).

Following 'Greenwashing...' we presented 'A Stake in the Mud, A Hole in the Reel: Land Art's Expanded Field 1968–2008', a film and video programme curated at the invitation of the Museo Tamayo in Mexico City that later toured to 8 venues between April and October: MARCO, Vigo; Stadtkino (Kunsthalle Basel), Basel, Switzerland; CAAC, Sevilla; Fundació Suñol, Barcelona; Barn Hongersdijk Farmstead, Wilhelminapolder, The Netherlands; Spike Island, Bristol, United Kingdom; Centro de Arte Dos de Mayo, Móstoles. For further information you can read an essay in the Winter 2008-9 (upcoming) issue of Art & Co magazine or download press articles and programmes here.

Before the end of the summer we were part of the jury for the Premi Miquel Casablancas, an award for Spanish artists under 36. From around 200 portfolios and projects submitted Latitudes, together with Aimar Arriola, selected four artists to participate in the exhibition later in the year: 'La, la, la, la: on winning and losing' (29.11.2008 – 10.01.2009).

The summer was filled with more research and work to be done, which was carried out thanks to the support and hospitality of the Deutsche Börse Residency Programme, Frankfurter Kunstverein, Germany.

The 2008-9 season began with the exciting realisation of 'The Crest of a Wave', a four-part project by Lawrence Weiner at Fundació Suñol, Barcelona (08.10 – 15.11.08) that had a great press, radio, specialised media and TV coverage (see post 12 November); followed by the conclusion of the 3 year-long public commission by Tue Greenfort which was presented in a discrete mode alongside his Frieze Art Fair project (16-19 October). This commission was an initiative of the RSA Arts & Ecology programme, London, which has recently become the Arts & Ecology center. Soon there will be a small publication gathering the history of the commission as well visual documentation of the project.

In November, as part of Artissima 15 Latitudes presented 'X, Y, etc!', a video programme comprised of around 40 works that was inspired by Charles Fort's research methodology, the paranormal and anomalous phenomena, the uncanny and the unexplained.

And now looking a little towards what's to come in 2009 ... since May 2008 (see previous posts here and here) we have been working on 'Portscapes', a series of artists' projects that will take place throughout 2009 alongside the construction of 'Maasvlakte 2', a 1,000 hectare area of reclaimed land that will extend the Port of Rotterdam, Europe's largest seaport and industrial area. Mirroring a port's function of transit and exchange 'Portscapes' will involve Rotterdam-based artists and those from countries including China, Austria, Mexico, Scotland and the US, with the aim of considering the physical and conceptual implications of the new lands of Maasvlakte 2, as well as the city-port as a distributive network across artistic, marine and mercantile registers. 'Portscapes' will be introduced during Art Rotterdam (5–8 February 2009) by a small 'prologue' publication designed by Ben Laloua / Didier Pascal.

Throughout 2008 we have also contributed several catalogue essays, articles, exhibition reviews, artists profiles, etc. a selection of which can be downloaded from our writing archive.

Happy New Year!
| A Stake in the Mud, Artissima 15, Barcelona, Fondazione Sandretto, Frankfurter Kunstverein, Fundació Suñol, Greenwashing, Land Art, Lawrence Weiner, MARCO, RSA, The Bookmakers Ed., Tue Greenfort
25 December 2008 10:49

Haegue Yang's new exhibition at sala rekalde 'Symmetric
Inequality'
(
18.12.08-19.04.09)
"belongs to a group of installations the artist has been developing over the course of this year, focusing her interest on investigating new possibilities for parallel crossings between abstraction and narration. Together with
Kunstverein (Hamburg), Cubitt (London), the Carnegie Museum of Art (Pittsburgh), Portikus (Frankfurt) and REDCAT (Los Angeles), sala rekalde now contributes to the closure of a serial project that has taken the medium of portraiture as the point of departure for its own articulation." (from e-flux 18.12.08).

Below an excerpt from
the catalogue essay
by Latitudes' Max Andrews "Towards Haegue Yang's 'Blind Rooms'", which will be included in the
forthcoming publication (out Spring 2009) followed by a video of the installation
:



"Yang has developed a finely-tuned articulation of space through deft assemblage that has encompassed mirrors, multifarious electric lamps, scent atomizers, infrared motion detectors, heat sources and Venetian blinds. Variously sensory and sensible (i.e. readily percieved), such devices are not necessarily socially meaningful in themselves, yet they allow an interactive atmospherics that suggest zones of indeterminate necessities – part domestic interiors, part private theatres – and "localized effects" akin to political action."

As the Arts Council Korea announced on the 23 December

Eungie Joo

, Director & Curator of Public Programs at the New Museum of Contemporary Art, New York, recently appointed commissioner of the Korea Pavilion at the forthcoming Venice Biennale has invited Yang to represent Korea at the 53rd International Venice Biennale. Joo is the first non-Korean national commissioner for the Korean Pavilion.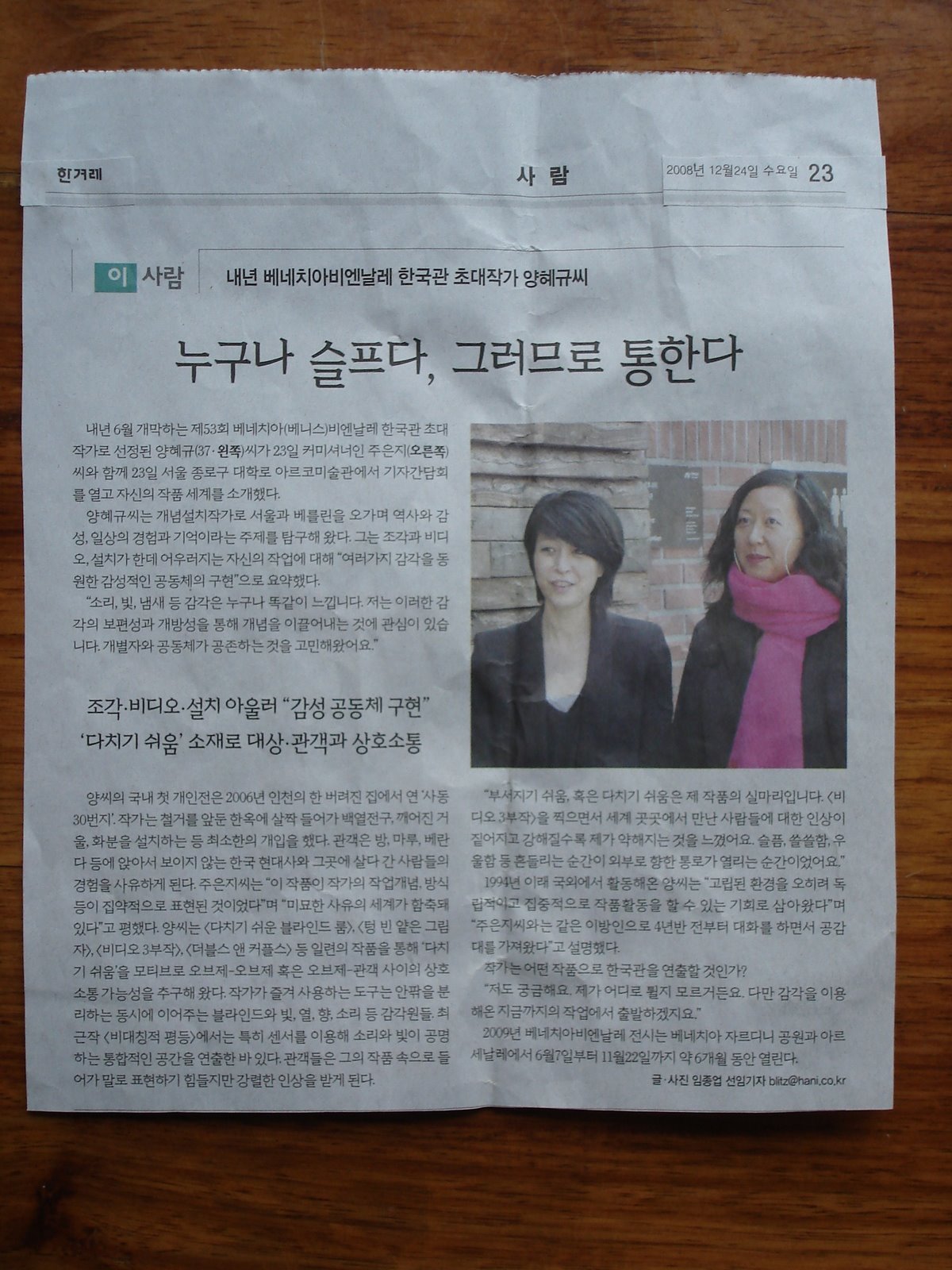 Haegue Yang

was featured in an interview by

Doryun Chong

in the Summer 2007 issue, which Latitudes guest edited, of UOVO/14 titled 'Ecology, Luxury and Degradation' (see inside the issue here).


HAEGUE YANG
'Symmetric Inequality'

18 December 2008 - 19 April 2009
sala rekalde
Alameda de Recalde 30
48009 Bilbao, Spain
www.salarekalde.bizkaia.net
| Carnegie International, Doryun Chong, Engie Joo, haegue yang, sala rekalde, UOVO, Venice Biennial
Older Posts / Entradas antiguas