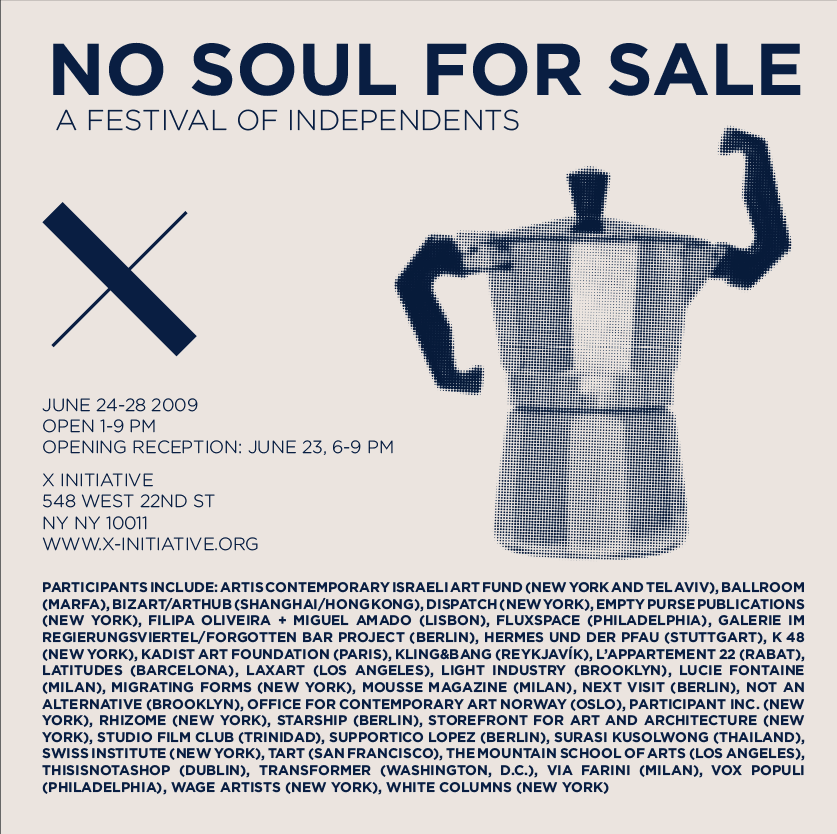 Latitudes will be soon participating in
'NO SOUL FOR SALE – A Festival of Independents
' (24–28 June, 1–9pm, free entrance) an event hosted by
X initiative
which will bring together
38 not-for-profit centers
, alternative institutions, artists' collectives and independent enterprises from
Berlin, Milan, Dublin, Lisbon, Paris, Reykjavík, Hong Kong, Rabat, Trinidad, New York, Los Angeles
, etc. that contribute to the international art scene by generating a diverse cultural programme.
Latitudes will set up a

temporary office-base camp

, transposing our daily operations while presenting our publications (exhibition catalogues, guest-edited magazines, artist books and anthologies) and other paraphernalia. The office-scenario' will be conceived by the artist group The Bruce High Quality Foundation, incorporating dining furniture from the abandoned

Burger King

facility on Governor's Island, where they have recently shot 'Isle of the Dead', a zombie movie to be premiered in Fort Jay Theater during Creative Time's 'This World & Nearer Ones' (opening June 27, 2–4pm) as well as in the X Initiative screening & performing area on

Sunday 28th from 6pm

.
Participants: Artis Contemporary Israeli Art Fund (New York and Tel Aviv), Ballroom (Marfa), BizArt/Arthub (Shanghai/Hong Kong), DISPATCH (New York), Empty Purse Publications (New York), Filipa Oliveira + Miguel Amado (Lisbon), FLUXspace (Philadelphia), Galerie im Regierungsviertel / Forgotten Bar Project (Berlin), Hermes und der Pfau (Stuttgart), K 48 (New York), Kadist Art Foundation (Paris), Kling&Bang (Reykjavík), L'Appartement 22 (Rabat), Latitudes (Barcelona), LAXART (Los Angeles), Light Industry (Brooklyn), Lucie Fontaine (Milan), Migrating Forms (New York), Mousse Magazine (Milan), Next Visit (Berlin), Not An Alternative (Brooklyn), Office for Contemporary Art Norway (Oslo), Participant Inc. (New York), Rhizome (New York), STARSHIP (Berlin), Storefront for Art and Architecture (New York), Studio Film Club (Trinidad), Supportico Lopez (Berlin), Surasi Kusolwong (Thailand), Swiss Institute (New York), TART (San Francisco), The Mountain School of Arts (Los Angeles), Thisisnotashop (Dublin), Transformer (Washington, D.C.), Via Farini (Milan), Vox Populi (Philadelphia), WAGE Artists (New York), White Columns (New York).
X INITIATIVE, 548 West 22nd Street (former Dia Center), New York, NY 10011, USA [MAP HERE]
Opening Reception: June 23, 6-9 pm with a performance by Martin Soto Climent.
Opening Hours: June 24–28 2009, 1–9 pm. FREE ENTRANCE