21 Apr 2009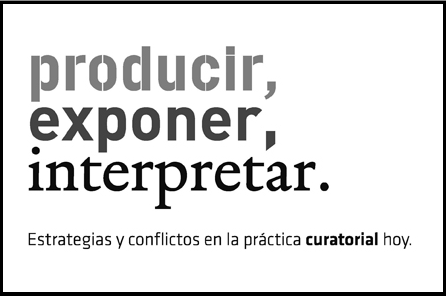 PRODUCIR, EXPONER, INTERPRETAR
es un encuentro nacional de comisarios de arte contemporáneo, vinculados generacionalmente, cuyo objetivo es, por un lado incentivar la creación de redes sociales entre profesionales del sector; y por otro lado, poner de relieve una serie de cuestiones en torno a la redefinición de la práctica curatorial.
Latitudes participará en las jornadas en Matadero en Septiembre. Véase programa completo aquí.
Lugar:

MUSAC de León

(22, 23 y 24 de mayo) y
Matadero Madrid
(25, 26 y 27 de septiembre)

Dirigen
: Tania Pardo (Comisaria MUSAC); Manuela Villa (Responsable de contenidos de Matadero Madrid y Coordinadora general de La noche en blanco)

Presentan las Jornadas:
Agustín Pérez Rubio (Director en funciones, MUSAC); Pablo Berástegui (Coordinador General Matadero Madrid); Cristina Conde (Directora General de Proyectos Culturales del Ayuntamiento de Madrid)

Participan en el panel
: David Arlandis / Javier Marroquí (Comisarios independientes, Valencia); David Armengol (Comisario independiente, Barcelona); María Bella (Comisaria de Intermediae, Madrid); Álex Brahim (Comisario independiente, Barcelona); Amanda Cuesta (Comisaria independiente, Barcelona); Beatriz Herráez (Comisaria, Centro Cultural Montehermoso Kulturunea, Vitoria); Latitudes (Comisarios independientes, Barcelona); Iván López Munuera (Comisario independiente, Madrid); Manuela Moscoso (Comisaria independiente, Madrid); RMS La Asociación (Comisarios independientes, Madrid); Manuel Segade (Departamento de exposiciones, CGAC, Santiago de Compostela); Virginia Torrente (Doméstico, comisaria independiente, Madrid); Leire Vergara (Comisaria-Jefe de Sala Rekalde, Bilbao).

Para asistir a las Jornadas de MUSAC inscribirse en: www.musac.es
Para asistir a las Jornadas de Matadero Madrid inscribirse en: [email protected]
Matadero Madrid
Paseo de la Chopera 14, 28045, Madrid
T: 915 177 309
[email protected]
www.mataderomadrid.com

MUSAC, Museo de Arte Contemporáneo de Castilla y León
Avda. Reyes Leoneses, 24, 24008 León
T.: 987 09 00 00
[email protected]
www.musac.es
comisariado, latitudes, Matadero, MUSAC
Founded in 2005 by Max Andrews and Mariana Cánepa Luna, Latitudes is a curatorial office based in Barcelona, Spain, that works internationally across contemporary art practices.

More about us. Browse projects. Read Longitudes. Receive newsletters.

Contact us. 
All content
Latitudes
2005—2019