31 Aug 2009
During our participation last June in the X Initiative's
NO SOUL FOR SALE - Festival of Independents in New York
, James Merle Thomas, a San Francisco-based team member of
L'APPARTEMENT 22
from Rabat, recorded a
short interview
for
Radio Apartment 22
between us and Massimiliano Gioni, Director of Special Exhibitions of the
New Museum of Contemporary Art,
New York. Gioni briefly talks about the 'introspective' (intead of retrospective) the museum dedicating to Zurich-born, New York-based artist
Urs Fischer
, opening 28 October.
The interview is part of Appartement 22's 'R22 Universe - Live From NYC' programme
available online here
.
Appartment 22, Massimiliano Gioni, No Soul for Sale, X initiative
30 Aug 2009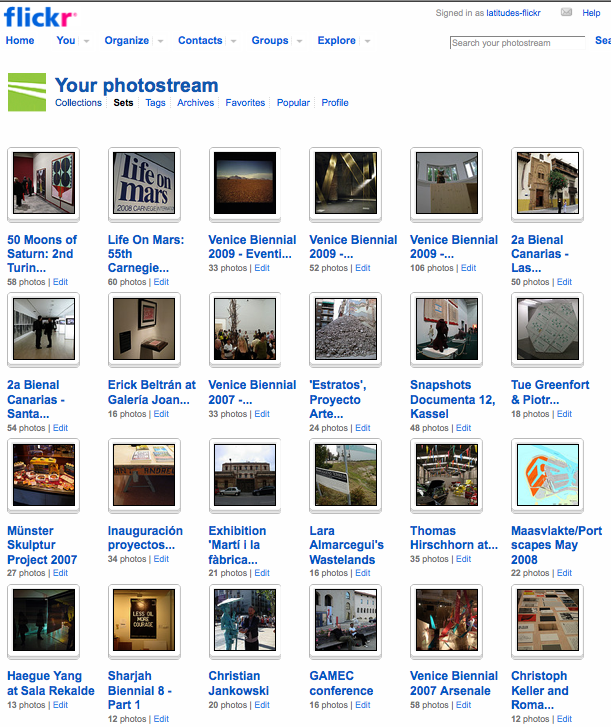 Following the demise of the photo sharing site
Bubbleshare
, we have transfered our
blog
albums
with
over 1,000 images
to
Flickr
so that you can enjoy slideshows in a bigger format on
our blog
. Take a tour to this year Venice Biennial (see
Arsenale
,
Giardini
or the
Collateral Events
), the 2008
55th
Carnegie International in Pittsburgh
or through the Port of Rotterdam in our
first site visit in May 2008
. 33 further photo sets
here
.
Photo documentation of
Latitudes
' projects
can still be found as usual on each of our
projects pages
under '
photo gallery
' – see
this
and
this
or
this
galleries as examples.
We welcome your (sensible) comments!
Carnegie International, Flickr, photoalbums, Port of Rotterdam Authority, Venice Biennial, website