Newsletter #10 · November 2008 · www.LTTDS.org
Para recibir newsletters en español, clica "unsubscribe" (arriba, derecha) y subscríbete de nuevo aquí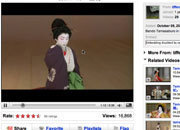 Jordan Wolfson, 'Favourite Things', 2008, 15 min., DVD loop. Courtesy T293, Naples and Johann König, Berlin.
'X, Y, etc.!', Artissima 15 Video Lounge, Turin, Italy, 6–9 November 2008
Preview VIP & Guests: 6 November, 12–6 pm; Official opening: 6–9.30pm;
7, 8 and 9 November: 11am–8pm
Latitudes' Artissima 15 Video Lounge titled X, Y, etc.! will be an array of over 40 film and video artworks, a curatorial selection motivated by the methodological project of Charles Fort (1874–1932), the relentless researcher of paranormal and anomalous phenomena.
X, Y, etc.! participates in Fort's universe by presenting a contrary borderland of knowns and unknowns, cynicism and speculation, science and fiction. Here everything is anomalous and underdetermined. Art and reality are far more mysterious, complex and nuanced than we realise. Further reading...
Lingotto Fiere, Pavilion 3 | via Nizza 294, 10126 Torino, Italy | T +39 011 197 441 06 | www.artissima.it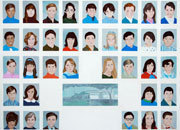 Daniel Rodríguez Castro 'Orla' (2007), acrílic on canvas , 114 x 146cm. Courtesy of the artist.
Exhibition 'La, la, la, la: on winning and losing', Casablancas Award 2008, Barcelona, 28 November 2008 – 10 January 2009
Preview: Friday 28 November
In collaboration with curator and writer Aimar Arriola, Latitudes will present a project with artists from among those who entered the Visual Arts Award Miquel Casablancas 2008.
The exhibition will gather works by Verónica Aguilera (1976), Fermín Jiménez Landa (1979), Daniel Rodríguez Castro (1984) and Oriol Vilanova (1980) that reflect on the dichotomy of winning and losing, and the social representation of success and failure, both in our private and public lives. Further reading...
Centre Cívic Sant Andreu | c/ Gran de Sant Andreu, 111 | 08030 Barcelona | santandreucontemporani.wordpress.com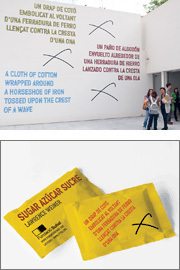 Installation of 'A CLOTH OF COTTON WRAPPED AROUND A HORSESHOE OF IRON TOSSED UPON THE CREST OF A WAVE' at Nivell Zero / Sugar packets with Lawrence Weiner's statement
Lawrence Weiner, 'THE CREST OF A WAVE', Nivell Zero at Fundació Suñol, Barcelona, until 15 November 2008
'THE CREST OF A WAVE' the new project by Lawrence Weiner curated by Latitudes is on view at the Nivell Zero space of Fundació Suñol until 15 November. It is divided in four parts – as a distributed ephemeral sculpture, a wall installation, a musical composition and an action – together each asks what might constitute a public sculpture. Weiner's new work triggers a chronicle of Spain's mercantile and maritime history, equestrian and commercial power, offering a biography of materials and a testament to the transmutability of language. Further reading...
Slideshow of the project here and gallery guide and press clippings here
Interactive map of where to find the 300,000 sugar packets distributed around bars and cafés in Barcelona here.
Nivell Zero, Fundació Suñol | c/ Rosselló 240 | 08008 Barcelona | www.fundaciosunol.org. Opening hours: Mon–Sat, 4–8pm
Installation of the 3 Eurobins by Tue Greenfort at Frieze Art Fair. Courtesy of the artist and Johann König, Berlin
Public presentation of Tue Greenfort commission, Royal Society of Arts, Arts & Ecology programme, London, 16–19 October
Tue Greenfort's public commission curated by Latitudes for the Royal Society of Arts' Arts & Ecology programme was presented in London coinciding with his participation in Frieze Art Fair projects.
The project simulates a new system of public recycling or refuse disposal. It consists of three modified 1100 litre 'Eurobins' (street refuse containers) whose sides have been cut away and replaced with transparent polycarbonate, thus making the contents visible to everyone. Citizens become actors in a reflection on consumption and disposability, recent municipal waste incentives, and the feasibility of recycling in large cities at the very point when a decision is made to throw something 'away'. Importantly, although the bins were encountered within close proximity to a major art event, they were not visibly "framed" as art works. No plinth, no label and no sign indicated that they were anything other than functional bins, plausibly located where one was leaving the event, perhaps ready to shed unwanted detritus. Further reading...
The project will be concluded with a publication, released in November/December 2008, designed by Kerr | Noble, London.
The project has been made possible thanks to the generous support of the following. We would also like to thank Frieze Art Projects team for their invaluable collaboration.
Computer rendering of the future Maasvlakte 2 in Rotterdam
PORTSCAPES, an artistic programme around Maasvlakte 2, Port of Rotterdam, The Netherlands, 2009
The Port of Rotterdam Authority and the Foundation for Art and Public Space (SKOR), Amsterdam, has invited Latitudes to generate an ambitious series of artists' projects based around the contruction of Maasvlakte 2, an extension to Europe's largest port and industrial area which will be realised between 2008 and 2013 by reclaming land from the sea. The new port will be increased by 20% in area and triple its container capacity.
Throughout 2009 a cluster of international and local artists will develop projects in and around the spatial contexts of the port and this 'tabala rasa', where land meets sea. The programme will explore the material, historical, artistic, architectural, political, social, ecological pasts, presents and futures of the development as well as the ripe contexts of trade and energy. Further reading...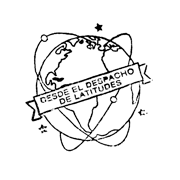 About Latitudes
Latitudes is an independent curatorial office founded in April 2005 by Max Andrews and Mariana Cánepa Luna. Latitudes collaborates with artists, institutions and organisations to facilitate and produce temporary and sustained projects such as exhibitions, commissions, editorial and research initiatives and conferences. With an operational base in Barcelona [41º23' N, 2º 11' E] Latitudes explores local, pan-European and international networks. Latitudes is on the Editorial Board of **The Bookmakers Ed**.,Turin/Berlin and are curatorial advisors for APT Intelligence.
Further news on www.lttds.org and www.lttds.org/blog