Detail of Simon Fujiwara's 'Museum of Incest: A Site Survey', 2008. Courtesy the artist
'Provenances', Umberto di Marino Arte Contemporanea, Naples, Italy, 14 May–14 September 2009. Opening: Thursday 14 May, 20h (Lecture-performance by Simon Fujiwara at 20.30h)
Artists: Eric Beltrán, Simon Fujiwara and Jordi Mitjà
'Provenances' is composed of three specially-commissioned solo presentations by Erick Beltrán (1974 Mexico City. Lives in Barcelona), Jordi Mitjà (1970 Figueres. Lives in Lladó, Girona) and Simon Fujiwara (1982, London. Lives in London/Berlin).
'Provenances' will coincide with Maggio dei Monumenti (May of Monuments), a month-long festival during which many historical palaces and private sites throughout Naples are made accessible to the public. The exhibition will reflect on the heritage industry and the museumification of history, as well as the creation, transmission and fidelity of cultural worth. More info...
Download the press release (English or Italian) from here.
UMBERTO DI MARINO, Via Alabardieri 1, Piazza dei Martiri, 80121 Napoli, ITALY
Opening hours: Mon-Sat 15-20h
With the kind support of:
Ignasi Aballí, 'Correcció', 2001. Courtesy the artist and Galeria Estrany de la Mota, Barcelona
'Nothing, or something', a new commission by Ignasi Aballí for Suitcase Art Projects, Beijing, China, 22 May–22 July 2009. Opening: 22 May, 18.30h
Ignasi Aballí will make a new installation for the eight window displays which comprise Suitcase Art Projects's location inside the Beijing Yintai Centre. Aballí's project responds to the commercial context and the expectations of display as well as an artistic history of absence, of nothingness and invisibility. More info...
Suitcase Art Projects is an initiative of the Today Art Museum under the artistic direction of curator and critic Carol Yinghua Lu. A companion publication will later be published with installation images and an essay by project curators Latitudes.
Suitcase Art Projects, Beijing Yintai Centre, 2 Jianwai Street, Chaoyang District, Beijing, CHINA
Opening hours: Mon-Sun 10am-10pm
Project made possible thanks to the kind support of the Shanghai Tang and Institut Ramon Llull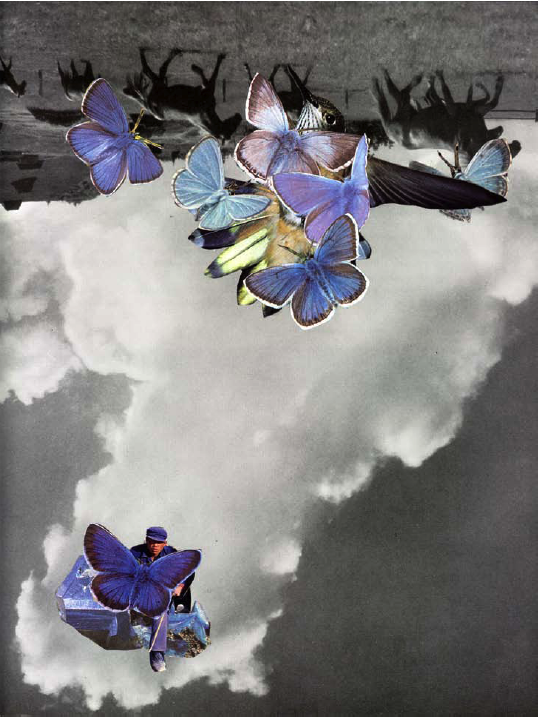 huber.huber, collage from the series 'Mikrouniversum und andere kleine Systeme IV', 2009. Courtesy the artists
'The Garden of Forking Paths', MAISTERRAVALBUENA, Madrid, Spain, 28 May–18 July 2009. Opening: 28 May, 20h
Artists: Eric Bell & Kristoffer Frick; The Infinite Library (Daniel Gustav Cramer & Haris Epaminonda); huber.huber; Leslie Hewitt & Matt Keegan and Nashashibi/Skaer
'The Garden of Forking Paths' brings together the work of five artist-duos in a consideration of duality, simultaneity and proliferation. The exhibition pursues, on the one hand, the implications of two individuals working together as a single author-function and, on the other, operates alongside artwork concerned with the synthesis, modulation and reuse of images and text over time. In part a hermeneutical maze – itself hosted and curated by duos and Maisterravalbuena [Pedro Maisterra & Belén Valbuena] and (Latitudes [Max Andrews & Mariana Cánepa Luna], respectively) 'The Garden of Forking Paths' highlights a condition where decisions and imagery is at least twice mediated. More info...
Download the press release (English or Spanish) from here.
MAISTERRAVALBUENA, Doctor Fourquet 1, 28012 Madrid, Spain.
Opening hours: Mon-Fri 11-14h;16-20.30h; Sat 11-14h
With the kind support of: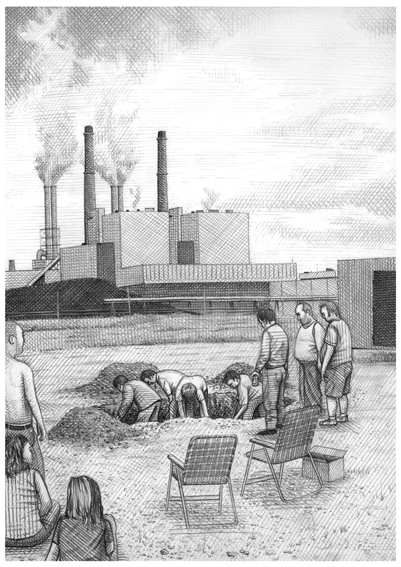 Jorge Satorre, 'Cavando en el Maasvlakte', 2008-9. Courtesy the artist.
ONGOING THROUGHOUT 2009: 'Portscapes', a series of new commissions in and around Maasvlakte 2, Port of Rotterdam, The Netherlands
'Portscapes' is an accumulative series of newly commissioned projects that will take place throughout 2009 alongside the construction of 'Maasvlakte 2', a 2,000 hectare area of reclaimed land that will extend the Port of Rotterdam, Europe's largest seaport and industrial area.
Throughout 2009 a cluster of national and international artists will develop projects in and around the spatial contexts of the port and this 'tabala rasa', where land meets sea. Projects of variable scales will be experienced through itineraries and destinations, comprising artist-designed tours, performances, interventions, screenings and mobile seminars, for example. More info...
'Portscapes' is commissioned by the Port of Rotterdam Authority advised by SKOR (Foundation for Art and Public Space) and is curated by Latitudes.
Project information and updates: www.portscapes.com
About Latitudes
Latitudes is a Barcelona-based [41º23' N, 2º 11' E] curatorial office founded in April 2005 by Max Andrews and Mariana Cánepa Luna. Latitudes collaborates with artists and institutions in the conception, organisation and production of exhibitions, public commissions, conferences, editorial and research initiatives across local, pan-European and international situations. Latitudes is on the Editorial Board of Archive Books,Turin/Berlin and is a curatorial advisor for APT Intelligence.
Latitudes' projects timeline here.
Further news on www.lttds.org and www.lttds.org/blog. Join us on facebook.