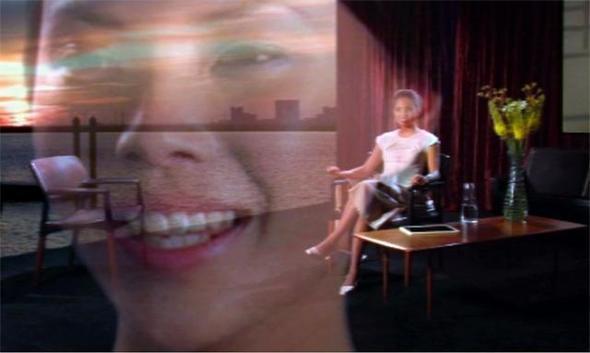 Neil Cummings & Marysia Lewandowska's 'Museum Futures: Distributed' (2008). Courtesy of the artists
'The Uncertainty Principle' is a programme produced by the Museu d'Art Contemporani de Barcelona (MACBA) divided in four parts, which through conferences, performances, cinema, video programmes and artist presentations sets out to analyse the multiple ways of generating a hypothesis.
Latitudes' film programme 'What are we going to do after we've done what we're doing to do next?' includes: Jordan Wolfson's 'Untitled (the nothing)', 2006 (10'); Mariana Castillo Deball's 'Nobody was Tomorrow', 2008 (15'); Neil Cummings & Marysia Lewandowska's 'Museum Futures: Distributed', 2008 (32'); Chris Marker's, 'La Jetée', 1962 (28'); Marjolijn Dijkman's 'Wandering Through the Future', 2007 (59'). + info...
The programme is a 'trailer' to the exhibition 'Sequelism. Episode 3: Possible, Probable, or Preferable Futures', Arnolfini, Bristol, UK, curated by Nav Haq (Exhibitions Curator, Arnolfini) and Latitudes
MACBA, Plaça dels Àngels 1, 08001 Barcelona, Spain
Opening hours: 11-19.30h; Sat: 10-20h; Sun and holidays: 10-15h; Closed Tuesdays.
Capella MACBA, 11-18 h. Closed Tuesdays. Free entrance.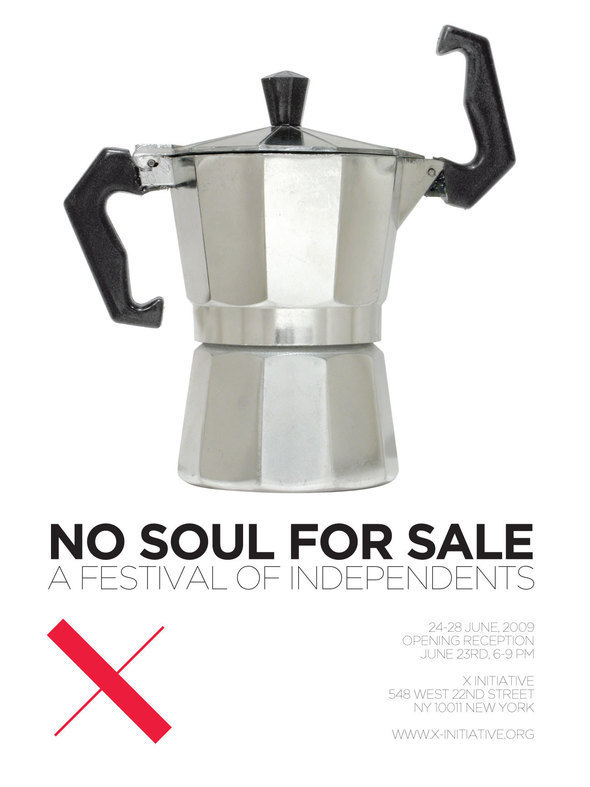 `NO SOUL FOR SALE - Festival of Independents' poster. Courtesy of X initiative
FORTHCOMING: Participation in 'NO SOUL FOR SALE', a festival of independent art organisations hosted by X initiative, New York, 24–28 June, 1–9pm. Opening reception: 23 June, 6–9pm. Free admission.
Latitudes will set up a temporary office-base camp, transposing our daily operations while presenting our publications and other paraphernalia.
During 'No Soul for Sale' we will premiere '**6 Hours Tide Object with Correction of Perspective' the new version of a 1969 film by Dutch Conceptual artist Jan Dibbets** (1941) and the inaugural project of Portscapes, the commission series taking place throughout 2009 in the Port of Rotterdam. + info...
The office-'scenario' will be conceived by the artist group The Bruce High Quality Foundation, who are participating in 'This world & nearer ones', organised by Creative Time, opening June 28th.
X INITIATIVE, 548 West 22nd Street, New York, NY 10011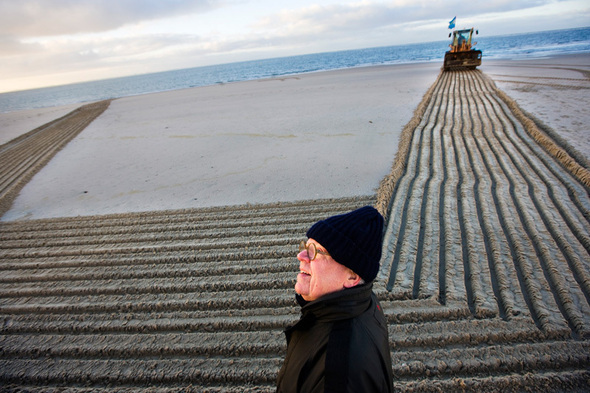 Jan Dibbets while filming '6 Hours Tide Object with Correction of Perspective' on 8 February 2009. Foto: Freek van Arkel
ONGOING: Premiere film by Jan Dibbets realised in the context of 'Portscapes', a series of new commissions in and around Maasvlakte 2, Port of Rotterdam, The Netherlands, throughout 2009
On Sunday 14 June the 2009 version of Jan Dibbets' '6 Hours Tide Object with Correction of Perspective' will be premiered at 'Futureland', the Maasvlakte 2 visitor centre in Rotterdam, close to where it was filmed on 8 February 2009. The film will be screened every Sunday until 5 July, and will also be shown in New York during our participation in 'NO SOUL FOR SALE - A Festival of Independents' (24-28 June, 1–9pm). For info on the screenings schedule please check our blog or Portscapes' website in the forthcoming days. Map to get to Futureland.
'Portscapes' is an accumulative series of newly commissioned projects that will take place throughout 2009 alongside the construction of 'Maasvlakte 2', a 2,000 hectare area of reclaimed land that will extend the Port of Rotterdam, Europe's largest seaport and industrial area. + info...
'Portscapes' is commissioned by the Port of Rotterdam Authority with advice and support from SKOR (Foundation for Art and Public Space) and is curated by Latitudes.
Project information and updates: www.portscapes.com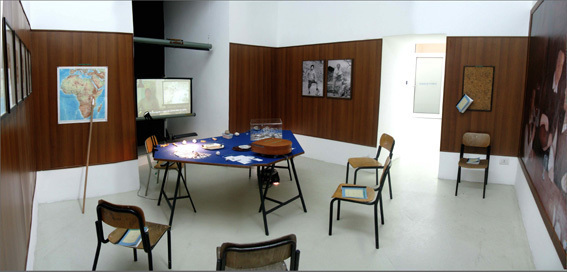 Installation view of Simon Fujiwara's 'The Museum of Incest' (2008-ongoing) at 'Provenances'. Photo: Simon Fujiwara
ONGOING: 'Provenances', with three new projects by Erick Beltrán, Jordi Mitjà and Simon Fujiwara, Umberto di Marino Arte Contemporanea, 14 May–14 September 2009
Photo tour of the exhibition here.
The exhibition will reflect on the heritage industry and the museumification of history, as well as the creation, transmission and fidelity of cultural worth. The artists share an aesthetic and pragmatic concern with the principle of the personal archive or the pre-museal wunderkammer – the categorization and veracity of objects, images and words is always provisional. + info
UMBERTO DI MARINO | Via Alabardieri 1, Piazza dei Martiri | 80121 Napoli, ITALIA
Opening hours: Mon-Sat 15–20h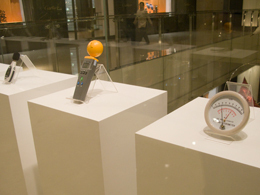 Ignasi Aballí, 'Taking Measures' (2009). Courtesy the artist. Photo: Latitudes
ONGOING: 'Nothing, or something' a new commission by Ignasi Aballí for Suitcase Art Projects, Beijing, China, 22 May–22 July 2009
Photo tour of the exhibition here.
Ignasi Aballí's new project for the eight windows of SUITCASE Art Projects responds to the retail context of the Yintai Centre as well as an artistic history of absence, nothingness and invisibility.
A publication with installation images and an essay by Latitudes will be available in late June 2009.
'Nothing, or something' is organised by the Today Art Museum under the artistic direction of curator Carol Yinghua Lu. + info...
SUITCASE Art Projects | Park Life, Beijing Yintai Centre, No. 2 Jianwai Dajie | Chaoyang District, Beijing, CHINA | Opening Hours: Mon-Sun 10am–10pm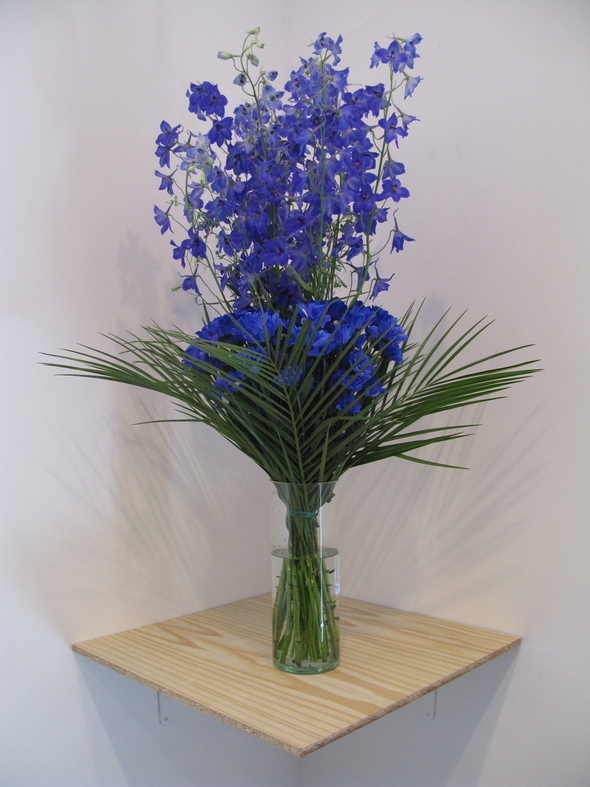 Matt Keegan & Leslie Hewitt, 'CMYK Floral', 2007-9, cyan flowers, vase, shelf. Courtesy of the artists. Photo: Latitudes
Photo tour of the exhibition here.
Artists: Eric Bell & Kristoffer Frick; The Infinite Library (Daniel Gustav Cramer & Haris Epaminonda); huber.huber; Leslie Hewitt & Matt Keegan and Nashashibi/Skaer
The Garden of Forking Paths brings together the work of five artist-duos to consider duality, simultaneity, saturation and proliferation. The exhibition pursues, on the one hand, the implications of two individuals working together as a single author-function and, on the other, operates alongside artwork concerned with the reproducibility of images. + info...
MAISTERRAVALBUENA | Doctor Fourquet 1, 28012 Madrid

Opening hours: Mon-Fri 10-14;15.30-19.30
Sat 10-18pm