Wed, Jul 1 2009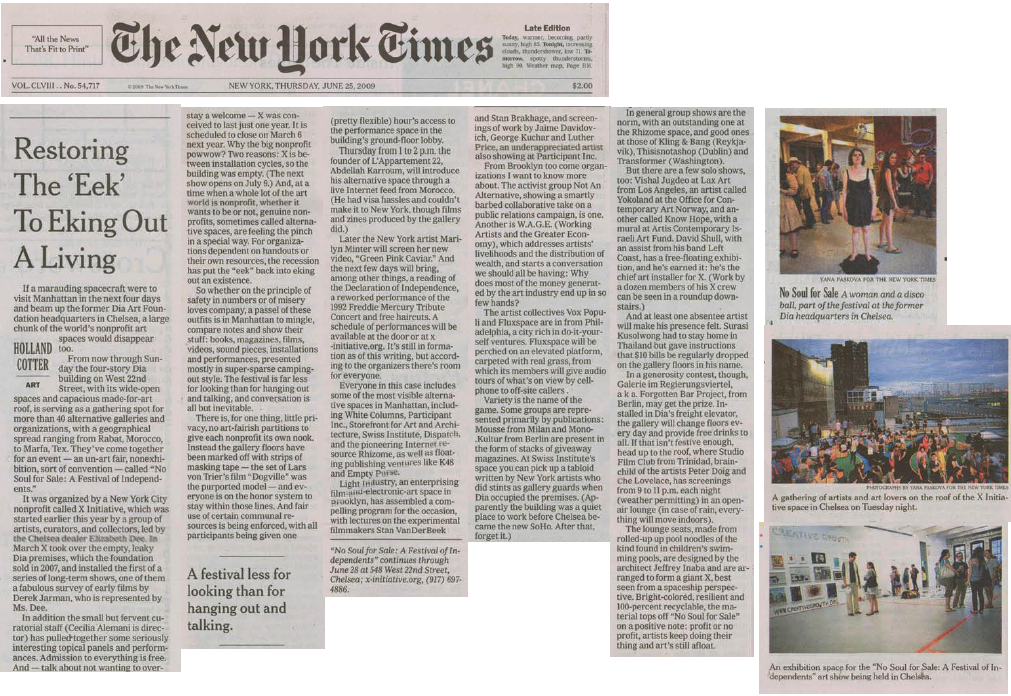 Following is a selection

press articles, blogs, announcements and slideshows

links related to 'NO SOUL FOR SALE – A Festival of Independents' which took place between 24–28th June in New York (if we missed any materials, please do share the link with us!).
p.s. Some sources are confused about the nature of Latitudes' space in the festival. Just to clarify, we didn't built a

faux

Burger King, the 'scenario' – assembled entirely thanks to The Bruce High Quality Foundation – comprised

real

dining furniture from the abandoned 1983 Burger King from Governors Island (see photo-documentation of the original site taken by two photographers invited in 2003 by Public Art Fund – images 2 and 3 of the slideshow).

e-Flux, June 15, 2009
http://www.e-flux.com/shows/view/6898
Holland Cotter, 'Restoring the 'Eek' to Eking Out a Living', New York Times, 24 June 2009
http://www.nytimes.com/2009/06/25/arts/design/25soul.html?_r=1&scp=1&sq=restoring%20the%20eek&st=cse
and slideshow here
http://www.nytimes.com/slideshow/2009/06/24/arts 20090625_SOUL_SLIDESHOW_index.html
Jerry Saltz, 'Saltz: Glimpse Art's Near Future at No Soul for Sale', 24 June 2009
http://nymag.com/daily/entertainment/2009/06/saltz_glimpse_arts_near-future.html
Laura Meli, 'The Anti-commerce, Pro-art "No Soul for Sale" Festival', 25 June 2009
http://www.nyartbeat.com/nyablog/2009/06/the-anti-commerce-pro-art-no-soul-for-sale-festival
Time Out Art, 25 June 2009
http://www3.timeoutny.com/newyork/tonyblog/2009/06/no-soul-for-sale-at-x-initiative
William Pym, Artforum Scene & Heard, 'Whatever Works', 26 June 2009
http://www.artforum.com/diary/#entry23170 (text)
http://www.artforum.com/diary/id=23170#readon23170 (more images)
Sunday, 28 June, 2009 (images)
http://www.16miles.com/2009/06/no-soul-for-sale-festival-of.html
23 June 2009
, www.designboom.com
http://www.designboom.com/weblog/cat/10/view/6793/no-soul-for-sale.html
Ceci Moss, 'Dispatches from No Soul For Sale: More Highlights!', 29 June 2009
http://rhizome.org/editorial/2732
No Soul for Sale, press coverage, The Bruce High Quality Foundation, X initiative
Cookies Advice: We use cookies. If you continue browsing, we consider that you accept their use. Aviso de Cookies: Utilizamos cookies. Si continua navegando, consideramos que acepta su uso.