Sat, May 10 2008
The Cartier Award 2008 has been awarded to
Cuban artist

Wilfredo Prieto (b. 1978)

.
The award enables artists to realise a major project as part of Frieze Projects at the Frieze Art Fair, curated by Neville Wakefield, as well as to enjoy a 3-month residency at
Gasworks, L
ondon, to produce the piece.

According to Frieze Art Fair 2008, "Prieto will present Pond

,

a site-specific installation of more than 100 oil drums. The mirrored pond-like effect created by water in the lids of the drums will be punctured by the presence and movement of a frog. The work will be a beautiful and poetic reflection on the current international obsession with accumulation and growth.

"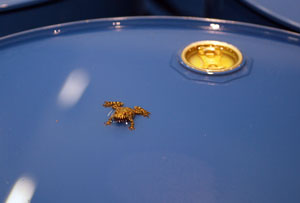 To know more about Prieto's work, read the profile that appeared in Frieze Magazine (
October 2007, Issue
110) and the images of 'Grasa, Jabón y Plátano' (2006) in 'Extraordinary Rendition', the exhibition we curated in NoguerasBlanchard (March 2007).

Following is an excerpt of the artist entry in the 'Greenwashing...' catalogue:



The artist's most visible contribution to

Greenwashing

is

Estanque

(Pond) (2007)

, a new sculpture in which a congregation of crude oil barrels have seemingly been transformed into an idyllic, 'eco-friendly' lily pond habitat with the addition of water puddles and a live frog. Though the oil barrel is not commonly part of our everyday surroundings as a physical object, it has a familiar significance as the standard unit of volume for the production and consumption of petroleum, and as such, it is often cast as a symbol of all of the ills of fossil-fuel dependency. Furthermore, the price of a barrel is a global index of macroeconomic conditions, geopolitical stability, and the fundamentals of energy supply-and-demand. [1] The environment that Prieto has created by converting the petroleum containers is no more 'natural' than the oil itself – which is, after all, an organic substance. Yet the sculpture inevitably suggests the prospect of eco-advertising, as if its graphic visual summary of apparent amphibian-petroleum harmony could perfectly lend itself to an audacious company marketing department in a bid to demonstrate their 'green' industrial principles. [2]

– Max Andrews

1. According to the 2007 CIA World Factbook, in Italy the equivalent of 32.1 barrels of oil are used each day for every 1000 people – or 11.7 barrels per person per year. The figure for the US is roughly double this estimate, and for Cuba, roughly half.
2. The connection to a recent Ford Motor Company campaign is irresistible: the well-known character Kermit the Frog appears pedalling on a bicycle singing his 1970 song 'Bein' Green', before he spots a Ford Escape Hybrid in a verdant wood, 'I guess it is easy being green', Kermit declares. See www.youtube.com/watch?v=kKotANcNVyo



[Image: Wilfredo Prieto 'Estanque (Pond)', 2008. Oil barrels, water, frog. Courtesy the artist and Galería NoguerasBlanchard, Barcelona. Photo: Courtesy Fondazione Sandretto Re Rebaudengo, Torino]
Fondazione Sandretto, Frieze Art Fair, Greenwashing, Torino, Wilfredo Prieto
Cookies Advice: We use cookies. If you continue browsing, we consider that you accept their use. Aviso de Cookies: Utilizamos cookies. Si continua navegando, consideramos que acepta su uso.