25 Jun 2009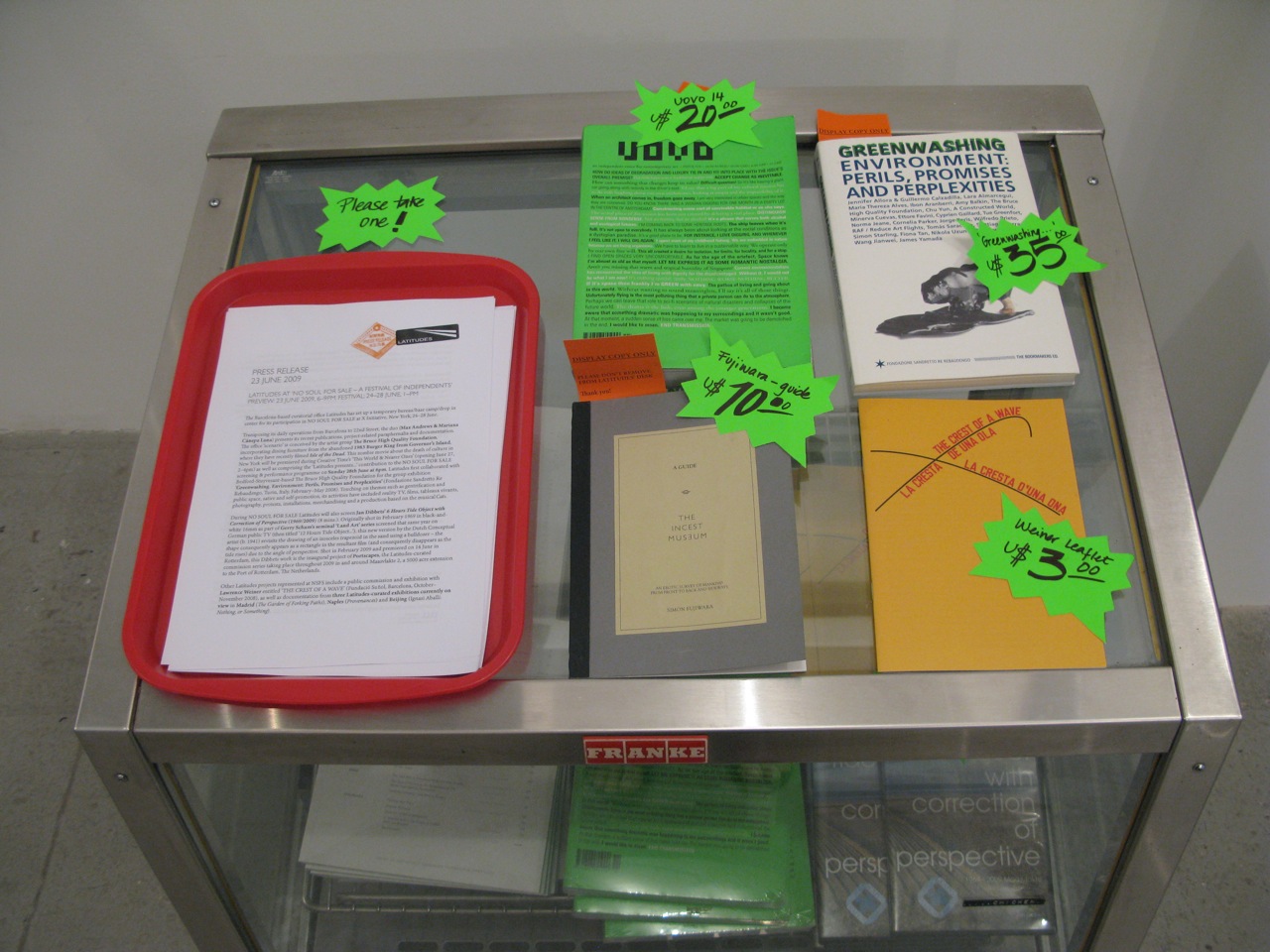 During 'NO SOUL FOR SALE' we are presenting several publications and paraphernalia related to our projects, including:
– Compendium of essays, artists' projects, etc. 'Land, Art: A Cultural Ecology Handbook' (Royal Society of Arts/Arts Council England, 2006)
– Magazine UOVO #14 'Ecology, Luxury and Degradation' (The Bookmakers Ed., Summer 2007)
– Exhibition catalogue 'Greenwashing. Environment: Perils, Promises and Perplexities' (The Bookmakers Ed., February 2008)
– Artist book by Simon Fujiwara 'The Museum of Incest: A Guide' (Archive Books, May 2009)
We also have DVDs of Jan Dibbets' recent film '6 Hours of Tide Object with Correction of Perspective' (as part of Portscapes) and a public sculpture produced in October 2008 by Lawrence Weiner on occasion of his exhibition 'THE CREST OF A WAVE' at Fundació Suñol, Barcelona (we also have the exhibition booklet available).
The Bruce High Quality Foundation also have a computer available from where visitors can burn DVDs for $5 as well as some of their publications.
Greenwashing, Lawrence Weiner, New York, No Soul for Sale, Simon Fujiwara, UOVO, X initiative
Founded in 2005 by Max Andrews and Mariana Cánepa Luna, Latitudes is a curatorial office based in Barcelona, Spain, that works internationally across contemporary art practices.

More about us. Browse projects. Read Longitudes. Receive newsletters.

Contact us. 
All content
Latitudes
2005—2020