Tue, Mar 24 2009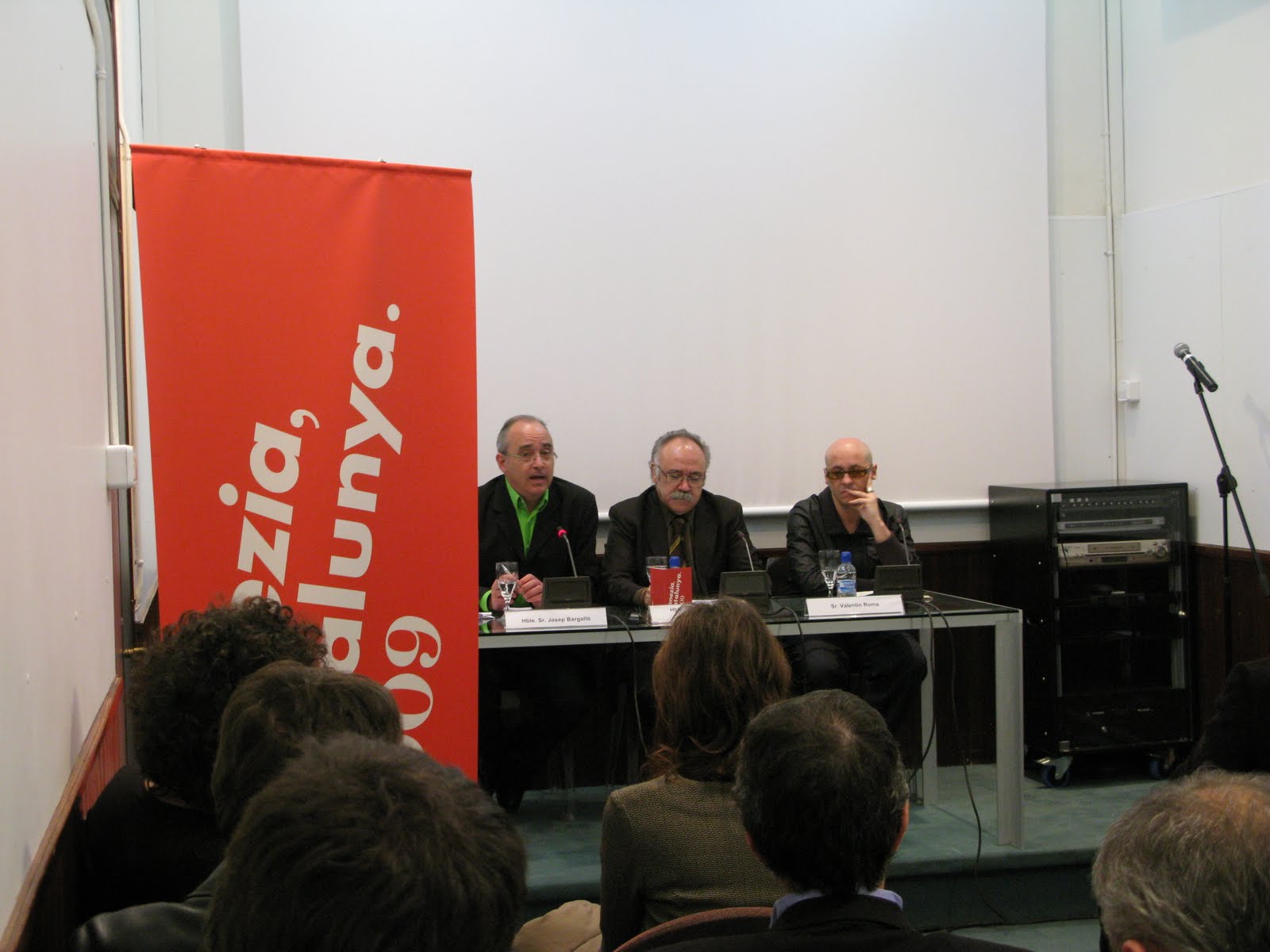 'Venezia, Catalunya 2009. La Comunitat Inconfessable'

Curated by
: Valentín Roma

Participating artists
: Sitesize (Joan Vila-Puig and Elvira Pujol), Technologies to the People (Daniel G. Andújar) and Archivo F.X. (Pedro G. Romero)

Location
: Magazzini del Sale #3, Dorsoduro, Venice

Support
: Institut Ramon Llull (overall production & coordination), MACBA (executive production) as well as the Kunstverein Stuttgart (production of Daniel G. Andújar's work), Ateneu Obrer Popular de Barcelona, ZEMOS98, Repensar Barcelona, DPC estudi and ACTAR who will co-publish and distribute the publication, amongst others.

As announced previously (see post 1 October 2008), Catalunya will have its first pavilion representation within the
Eventi Collaterali
in the forthcoming edition of the Venice Biennale titled 'Fare Mondi/Making worlds' (7 June–22 November 2009). The first press conference (see slideshow above) took place yesterday evening at the Istituto Italiano di Cultura di Barcellona, with Josep Bargalló (director, Institut Ramon Llull); Josep-Lluís Carod-Rovira (Vice-president of the Catalan Government and on the directing board of the Institut) and pavilion curator Valentín Roma.


The Catalan Pavilion will open during the first week of June with '

La Comunitat Inconfessable

' a project curated by Roma (read about the selection process here) and including Sitesize (Joan Vila-Puig and Elvira Pujol), Technologies to the People (Daniel G. Andújar) and Archivo FX (Pedro G. Romero)
. The project will be shown in the 600 square metre space of the

Magazzini del Sale #3

, which is normally assigned by the Venetian townhall to the nearby Accademia di Belle Arti di Venezia.


'

La Comunitat Incofessable

' takes its title from
Maurice Blanchot's 1983 book 'La Communauté inavouable' (The Unavowable Community)
, and from Blanchot's inquiry into the nature and possibility of community and interpreting
communism as 'that which creates community'. The thread between the three projects is the questioning of the single authorship, as the artists constantly appropriate preexistent materials (photographs, data...) and reconfigure new archives, new readings of these materials. The project is divided into three parts: the

exhibition

taking

Blanchot's reference to the library as a space for knowledge; the

catalogue

(with reprinted texts by Blanchot, as well as Jean Luc Nancy, Giorgio Agamben, Philippe Lacoue-Labarthe, etc.) as well as essays and interviews related to the artists projects by Gerard Horta, Iris Dessler, Jacob Lillemose, Manuel Delgado amongst others) and a

website

which will host a vast archive around the notion of communality.


During yesterday's press presentation, Roma briefly presented the conceptual lines and academic aspirations of the exhibition. Curiously, considering that the project reflects on the

use and reuse of
images
, archives and libraries

– whether concerning territory and landscape (Sitesize), geopolitical changes between the fall of the Berlin wall and 9-11 (Daniel G. Andújar) or information about iconoclasm in Spain (Pedro G. Romero)
– there was no visual material shown during the presentation, and no photo documentation related to the artists in the press packs. We will have to wait for the artists' presentations in a month's time at MACBA, as announced yesterday (date TBC).

Roma also commented on the challenges in presenting ongoing research and extensive archival materials in an attractive exhibition format – those who saw Pedro G. Romero's 'F.X. Archive: The Empty City'
at the Fundació Tàpies in 2006 might remember a huge scaffolding structure filled with the buzz of printers, flashing TV monitors, wires and stacks of paper. Josep Bargalló (director of the Institut Ramon Llull) and Josep-Lluís Carod-Rovira's speeches predictably praised the historical role of Catalunya as a center of debate, innovative cultural society and the pavilion's aim to make the take note of Catalan cultural production.

Why is it that in every such
press conference
the first question from the floor always related to the budget? In this case the exhibition's coffers total €500,000, plus a exceedingly generous €200,000 for the publication (in Catalan, Italian, Spanish and English) plus c. €5,000 for a website. The agreement with the city of Venice is that they could use the Magazzini del Sale #3 for no rental fee but, according to Bargalló, they would contribute towards the restauration of the spaces to the tune of €40,000, adding up to €745,000. On top of that are curatorial and artists fees, press & marketing, flights, accommodation, opening events, invitations, etc. A hearty budget.

More info: www.veneziacatalunya2009.cat



RELATED LINKS:

Click here to read the full list of participating artists in 'Fare Mondi/Making Worlds';
Here to read the 53rd Venice Biennale Press Release (dated 23 March 2009);
Here to read the full list of

Eventi Collaterali

Here to read about the Catalan project

[Images: Press conference and (right) Pavilion curator Valentín Roma. Photos: Latitudes | www.lttds.org]
Catalan Pavilion, Institut Ramon Llull, Venice Biennial
Cookies Advice: We use cookies. If you continue browsing, we consider that you accept their use. Aviso de Cookies: Utilizamos cookies. Si continua navegando, consideramos que acepta su uso.