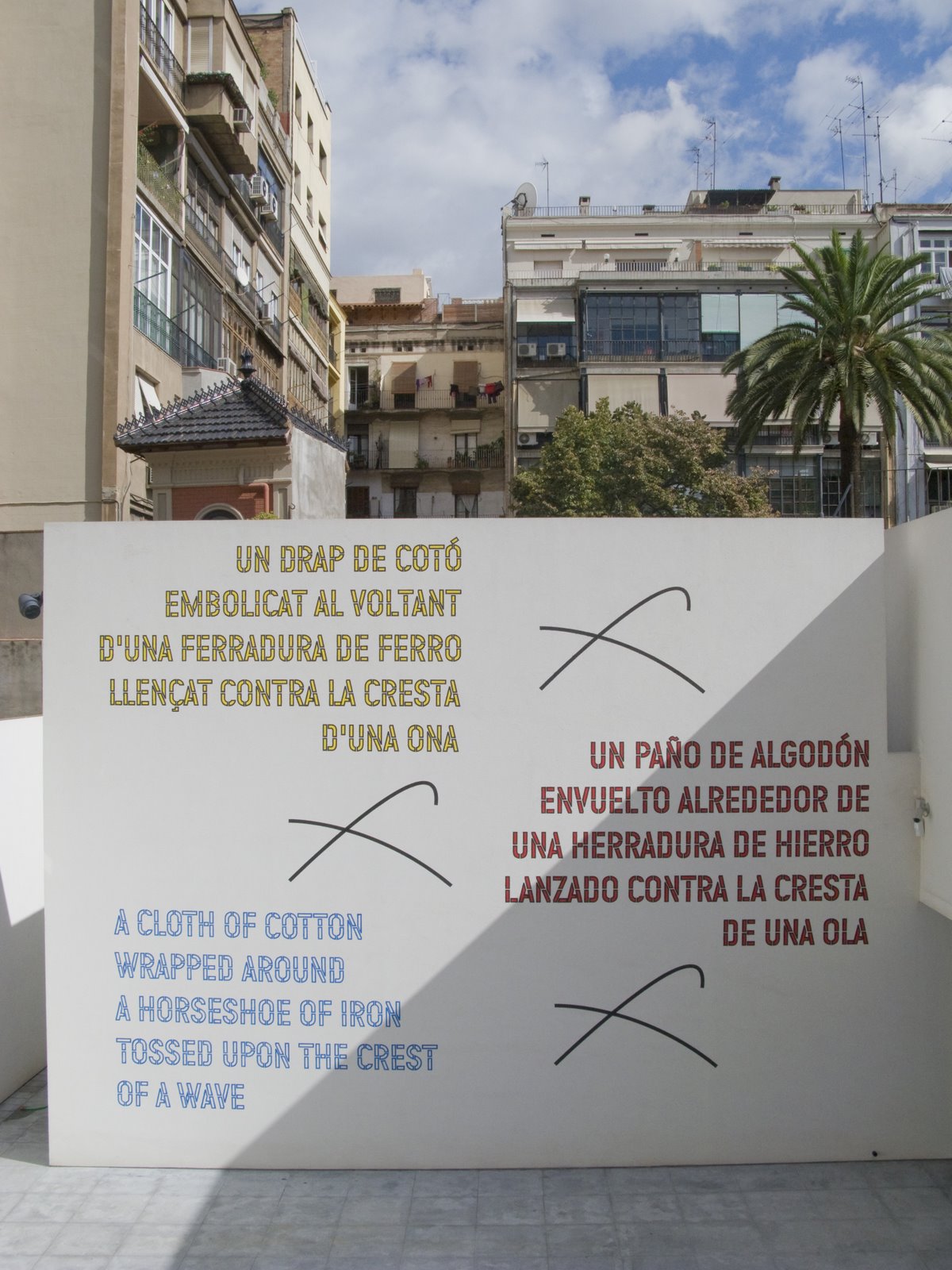 The
second and third parts
of the project 'THE CREST OF A WAVE' by Lawrence Weiner will be presented this evening at Nivell Zero (image above): an adaptation of the sentence painted on the exterior wall of the courtyard in Catalan, Spanish and English. In the interior space the same statement was recorded within a catchy musical composition based on a track by Ned Sublette and The Persuasions.
The
last element
of the project took place as a small event realised by the Mediterranean on October 6, 2008: an iron horseshoe was wrapped in cotton cloth and was tossed upon a wave's crest.

The
first part
of the project coincided with the

24th September

festivities of the patron saint of Barcelona: La Mercè (see post 23.09.08). 300,000 white sugar sachets were distributed throughout emblematic cafés, restaurants and bars of the city [locations: http://www.mapme.com/map/thecrestofawave] to sweeten our conversations.

Exhibition runs until Saturday

15 November

. A 16 page booklet has been printed for the ocasion.
Monday to Saturday, 16–20h
– –

Above: Installation at Nivell Zero–Fundació Suñol of 'A CLOTH OF COTTON WRAPPED AROUND A HORSESHOE OF IRON TOSSED UPON THE CREST OF A WAVE', Cat. #929, 2006–2008. Courtesy the artist. Below: Lawrence Weiner with a horseshoe wrapped around a cloth of cotton.
Courtesy the artist/
Latitudes. All photos: Latitudes