Mon, Sep 14 2009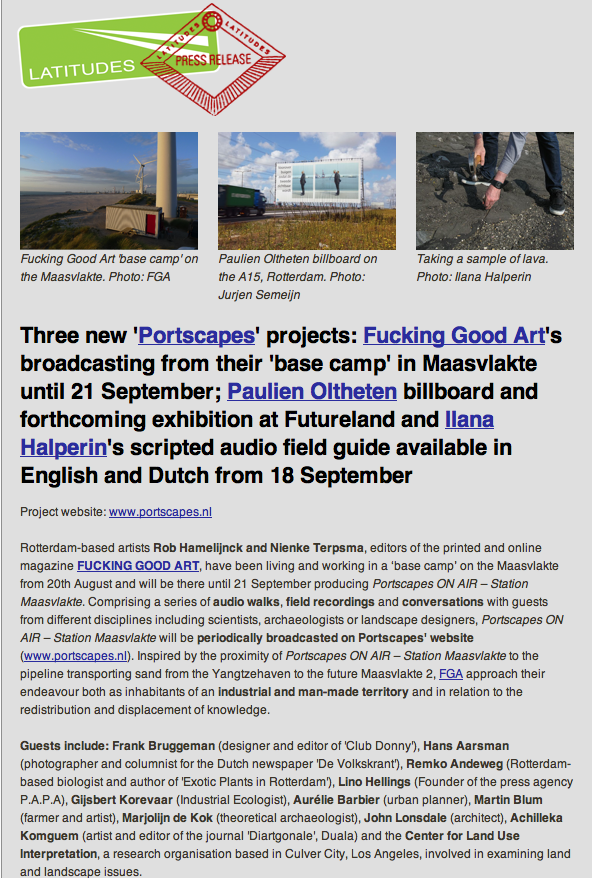 Three new 'Portscapes' projects: Fucking Good Art's broadcasting from their 'base camp' in Maasvlakte until 21 September; Paulien Oltheten billboard and forthcoming exhibition at Futureland and Ilana Halperin's scripted audio field guide available in English and Dutch from 18 September 2009



Project website: www.portscapes.nl

More info on this projects here

Rotterdam-based artists

Rob Hamelijnck and Nienke Terpsma

, editors of the printed and online magazine FUCKING GOOD ART, have been living and working in a 'base camp' on the Maasvlakte from 20th August and will be there until end of September producing Portscapes ON AIR – Station Maasvlakte. (+ info...)

On 14 August 2009 a billboard by Amsterdam-based artist PAULIEN OLTHETEN was placed along the A15 on the Maasvlakte. Oltheten made use of the lack of reference of natural elements, such as trees, bushes and people by arranging meetings. These stagings mostly take place in locations on the Maasvlakte that will soon disappear or be displaced and often involve variations of the theme 'one becomes two', referring to the Maasvlakte, of which there will later be two. (+ info...)

As her contribution to Portscapes, New York-born Glasgow-based artist ILANA HALPERIN has created an audio field guide available online and on MP3 players which visitors will be able to pick up at Futureland (map here) and experience through wandering the nearby area of the port edge.

'A Brief History of Mobile Landmass'

is inspired by a perception of Maasvlakte 2 in terms of formidable geophysical phenomena and a geological sense of time. (+ info...)

Audioguide available online and at Futureland (map here) from

18 September 2009 until 2013

. Narrated in English and Dutch. Duration: 45 min.

–

'Portscapes' is an accumulative series of art commissions taking place throughout 2009 alongside the construction of 'Maasvlakte 2', a 2,000 hectare area of reclaimed land that will extend the Port of Rotterdam, Europe's largest seaport and industrial area by 20%. Projects varied in size and scale will be produced under the leitmotif itineraries and destinations comprising tours, audioguides, performances, radio programmes, interventions, for example. (+ info...)



Artists involved in Portscapes

: Lara Almarcegui, Bik van der Pol, Jan Dibbets, Marjolijn Dijkman, Fucking Good Art, Cyprien Gaillard, Ilana Halperin, Roman Keller & Christina Hemauer, Paulien Oltheten, Michael Rakowitz, Jorge Satorre, Hans Schabus and Jun Yang. Website collaborators: Maria Barnas (poetry) and Markus Miessen (interviews).

Read more on completed projects and on projects in production.

'Portscapes' press coverage here. To receive Portscapes news

sign up

here.

'Portscapes' is commissioned by the Port of Rotterdam Authority with advice and support from SKOR (Foundation for Art and Public Space) and is curated by Latitudes.
Fucking Good Art, Ilana Halperin, Maasvlakte 2, Paulien Oltheten, Portscapes, Rotterdam, SKOR
Cookies Advice: We use cookies. If you continue browsing, we consider that you accept their use. Aviso de Cookies: Utilizamos cookies. Si continua navegando, consideramos que acepta su uso.