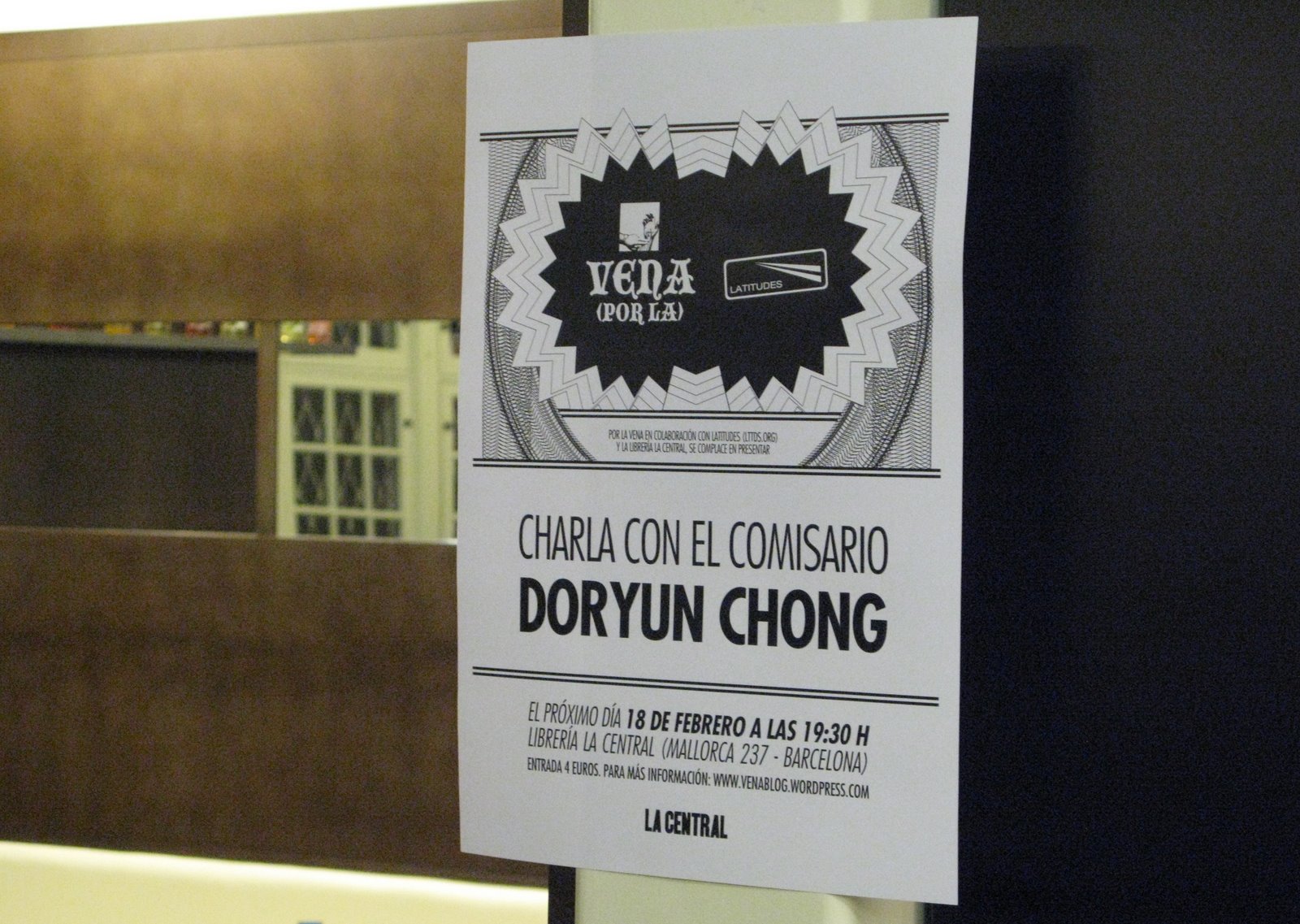 Miércoles 18 de febrero, 19.30h

Charla con Doryun Chong, Comisario Asociado, Walker Art Center, Minneapolis, USA
Librería La Central | c/ Mallorca, 237 (MAP) | 08008 Barcelona |
Tickets

*: 4€, se adquirieren en la caja de La Central
Doryun hablará sobre algunos de sus proyectos en el Walker Art Center, Minneapolis, y sobre lo que implica trabajar en una institución multidisciplinaria desde el medio-oeste geográfico de los Estados Unidos.
Doryun Chong

(Korea, 1973) es Comisario Asociado de Artes Visuales en el Walker Art Center, Minneapolis, donde ha trabajado desde el 2003. Las exposiciones que ha co-comisariado en el Walker incluyen: "House of Oracles: A Huang Yong Ping Retrospective" (2005), "Brave New Worlds" (2007) y "Tetsumi Kudo: Garden of Metamorphosis" (2008). También en el Walker, Chong ha desarrollado residencias de artistas y proyectos expositivos con varios artistas entre los que se incluyen: Jennifer Allora and Guillermo Calzadilla, Rirkrit Tiravanija y Catherine Sullivan. Actualmente está trabajando en la organización de una residencia y exposición de la artista Haegue Yang (Korea/Berlin). Doryun fue uno de los comisarios de la Busan Biennale, Busan, Sur Korea en el 2006.
Charla del ciclo de Vena (porla) programada en colaboración con Latitudes | www.lttds.org
Más info:
http://venablog.wordpress.com/charlas
Agradecimientos: La Central e YProductions
–
El equipo de Vena (por la) y Latitudes organiza esta serie de charlas sin ánimo de lucro. La compra de tu ticket se invierte íntegramente en la realización de futuras presentaciones. Gracias por tu colaboración.
–
Imágenes de la presentación tomadas por Latitudes: