30 Aug 2009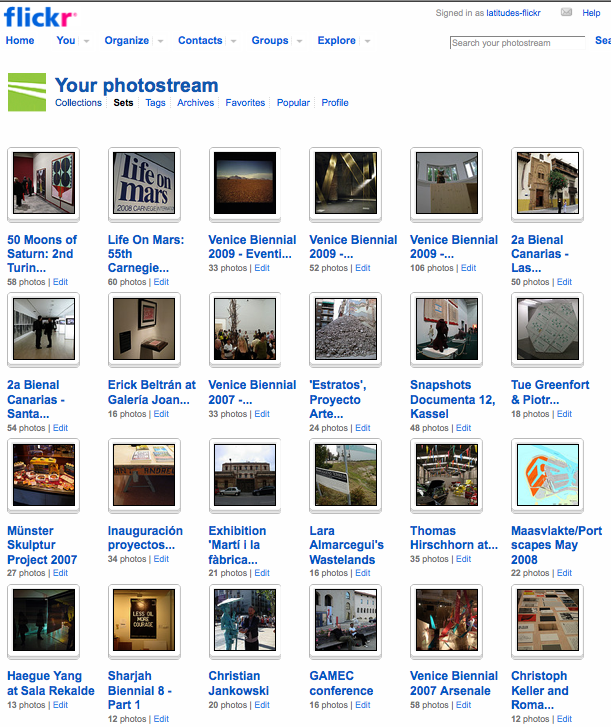 Following the demise of the photo sharing site
Bubbleshare
, we have transfered our
blog
albums
with
over 1,000 images
to
Flickr
so that you can enjoy slideshows in a bigger format on
our blog
. Take a tour to this year Venice Biennial (see
Arsenale
,
Giardini
or the
Collateral Events
), the 2008
55th
Carnegie International in Pittsburgh
or through the Port of Rotterdam in our
first site visit in May 2008
. 33 further photo sets
here
.
Photo documentation of
Latitudes
' projects
can still be found as usual on each of our
projects pages
under '
photo gallery
' – see
this
and
this
or
this
galleries as examples.
We welcome your (sensible) comments!
Carnegie International, Flickr, photoalbums, Port of Rotterdam Authority, Venice Biennial, website
25 Dec 2008

Haegue Yang's new exhibition at sala rekalde 'Symmetric
Inequality'
(
18.12.08-19.04.09)
"belongs to a group of installations the artist has been developing over the course of this year, focusing her interest on investigating new possibilities for parallel crossings between abstraction and narration. Together with
Kunstverein (Hamburg), Cubitt (London), the Carnegie Museum of Art (Pittsburgh), Portikus (Frankfurt) and REDCAT (Los Angeles), sala rekalde now contributes to the closure of a serial project that has taken the medium of portraiture as the point of departure for its own articulation." (from e-flux 18.12.08).

Below an excerpt from
the catalogue essay
by Latitudes' Max Andrews "Towards Haegue Yang's 'Blind Rooms'", which will be included in the
forthcoming publication (out Spring 2009) followed by a video of the installation
:



"Yang has developed a finely-tuned articulation of space through deft assemblage that has encompassed mirrors, multifarious electric lamps, scent atomizers, infrared motion detectors, heat sources and Venetian blinds. Variously sensory and sensible (i.e. readily percieved), such devices are not necessarily socially meaningful in themselves, yet they allow an interactive atmospherics that suggest zones of indeterminate necessities – part domestic interiors, part private theatres – and "localized effects" akin to political action."

As the Arts Council Korea announced on the 23 December

Eungie Joo

, Director & Curator of Public Programs at the New Museum of Contemporary Art, New York, recently appointed commissioner of the Korea Pavilion at the forthcoming Venice Biennale has invited Yang to represent Korea at the 53rd International Venice Biennale. Joo is the first non-Korean national commissioner for the Korean Pavilion.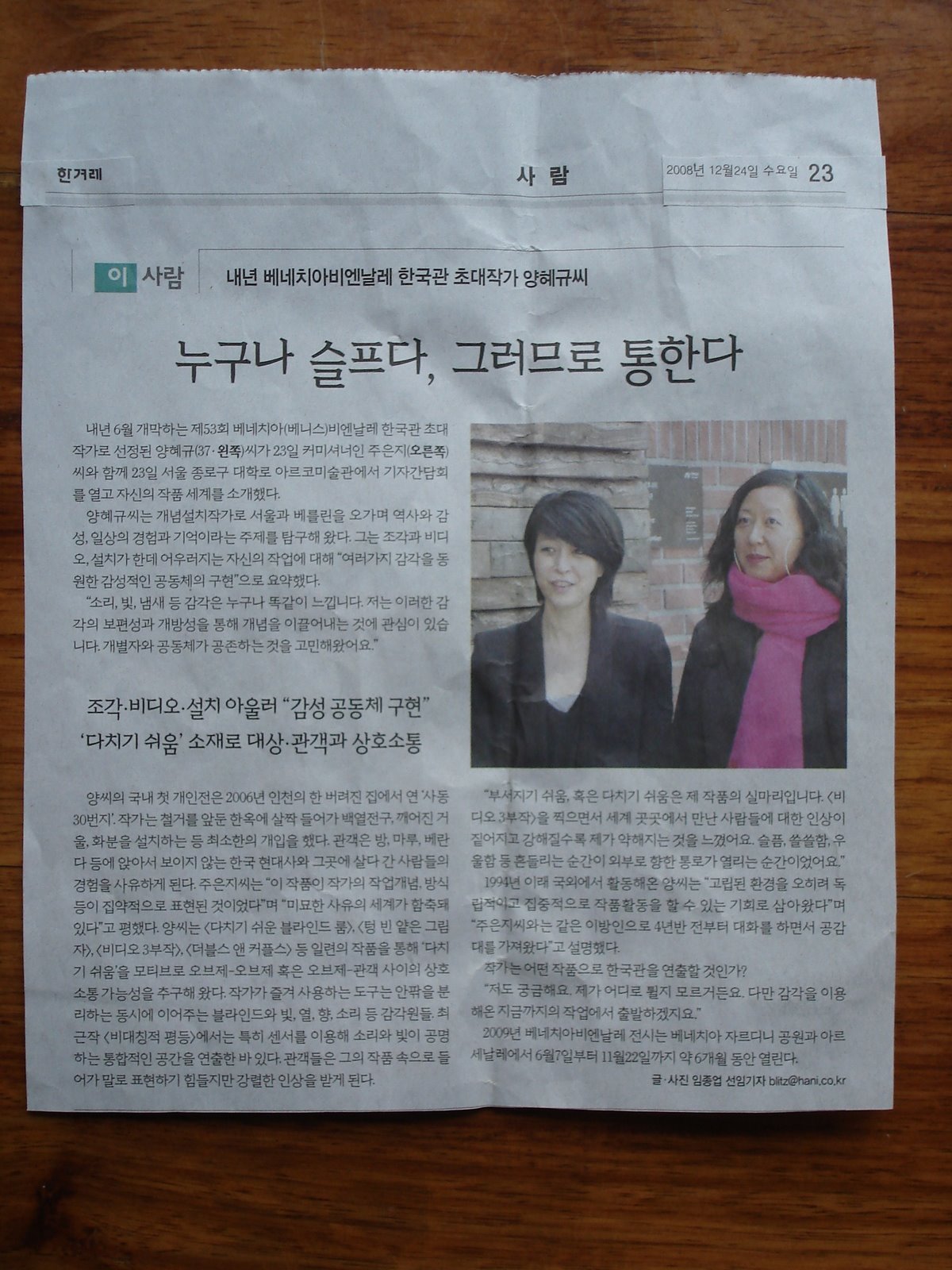 Haegue Yang

was featured in an interview by

Doryun Chong

in the Summer 2007 issue, which Latitudes guest edited, of UOVO/14 titled 'Ecology, Luxury and Degradation' (see inside the issue here).


HAEGUE YANG
'Symmetric Inequality'

18 December 2008 - 19 April 2009
sala rekalde
Alameda de Recalde 30
48009 Bilbao, Spain
www.salarekalde.bizkaia.net
Carnegie International, Doryun Chong, Engie Joo, haegue yang, sala rekalde, UOVO, Venice Biennial
06 May 2008
Our shots of the 55th installment of the
Carnegie International
, curated by
Douglas Fogle
, which was unveiled last Thursday 1st May and runs until January 11th 2009. Latitudes's
Max Andrews
contributed to the catalogue, designed by
COMA
, with texts on 20 of the 40 participating artists, including Carnegie prize winners Vija Celmins and Apichatpong Weerasethakul. There's more about the opening on
Artforum Diary
...
Update 27 August
:
Jorg Heiser's review
on Frieze (Issue 117, September 2008)
Carnegie International, Douglas Fogle, Frieze, Max Andrews
Founded in 2005 by Max Andrews and Mariana Cánepa Luna, Latitudes is a curatorial office based in Barcelona, Spain, that works internationally across contemporary art practices.

More about us. Browse projects. Read Longitudes. Receive newsletters.

Contact us. 
All content
Latitudes
2005—2020