05 Feb 2020
The Reduce Art Flights website has had a long-overdue refresh (the first version is from 2008 and originally at reduceartflights.com): it now features a new exhibition history, bibliography and a transcription of the interview with RAF's instigator, the late artist Gustav Metzger
(1926–2017)

.
RAF /
Reduce Art Flights is a campaign which upholds that the art world—artists, curators, critics, gallerists, collectors, museum directors, etc.—could or should diminish its use of aeroplanes.
"...it's a nudge in the ribs as it were to remind people there is a problem and let's talk about this problem of endless flights here and there. What particularly annoyed me originally was the statement by the organisers of the [2006] Basel art fair that when it comes to taking the fair to Miami, which was planned, everybody could get a 50% reduction on the aeroplane flight. I thought that is just over the top, pumping up the possibility of aeroplane use. So for me, this has very much to do with a rejection of mass transport through the air of course, and through cars and buses, and also a criticism of the art world where everything is out for maximizing everything and in every direction." — Gustav Metzger

The site is maintained by Latitudes as a resource for the initiative and as a location for future elaborations of its aims.
The website in 2008.
Pages of the exhibition catalogue 'Greenwashing. Environment: Perils, Promises and Perplexities', Fondazione Sandretto Re Rebaudengo, edited by Latitudes & Ilaria Bonacossa, published by The Bookmakers Ed., Turin, 2008, ISBN: 978-88-95702-01-8.
→ RELATED CONTENT:
2008, 2020, archive, Ecology, Greenwashing, Gustav Metzger, Reduce Art Flights, website
21 Oct 2009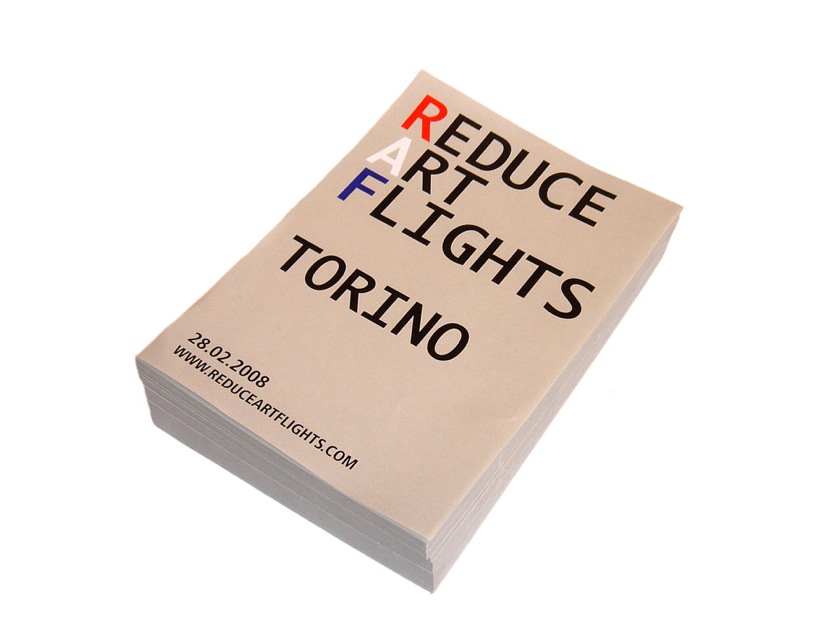 Photo: Latitudes, Barcelona.
The Reduce Art Flights (28.02.2008, Turin) leafleting campaign has been included in the exhibition 'Gustav Metzger, Decades 1959–2009' at the Serpentine Gallery in London (on view until 8 November 2009).
The leaflet was produced in the occasion of the Latitudes-curated exhibition 'Greenwashing. Environment: Perils, Promises and Perplexities' that took place between February and May 2008 at the Fondazione Sandretto Re Rebaudengo in Turin, Italy.
For the occasion, the invitation mailing was accompanied by the pamphlet encouraging visitors to arrange alternative travel to the exhibition.
For further info check http://www.reduceartflights.lttds.org
Greenwashing, Gustav Metzger, Reduce Art Flights, Serpentine Gallery
Founded in 2005 by Max Andrews and Mariana Cánepa Luna, Latitudes is a curatorial office based in Barcelona, Spain, that works internationally across contemporary art practices.

More about us. Browse projects. Read Longitudes. Receive newsletters.

Contact us. 
All content
Latitudes
2005—2020